Arizona Shocks No. 7 UCLA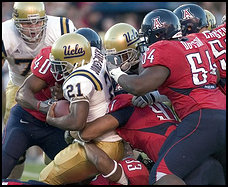 By BOB BAUM
The Associated Press
Saturday, November 5, 2005; 10:30 PM
TUCSON, Ariz. -- UCLA's luck finally ran out _ and how! Freshman Willie Tuitama, in his second college start, threw for two early touchdowns and Arizona rolled for 519 yards in a 52-14 rout of the previously unbeaten and seventh-ranked Bruins on Saturday night.
Arizona, losers of 19 of its last 21 Pac-10 home games, rushed for 320 yards. Mike Bell had 153 yards in 16 attempts, including an 8-yard touchdown run. Gilbert Harris added a career-best 116 yards in 16 attempts, one of them a 17-yarder for a score.
Mike Thomas caught five passes for 104 yards, and had a 48-yard touchdown catch and a 17-yard touchdown run, both in the first quarter.
It was the highest-ranked team to lose to Arizona since the Wildcats beat No. 1 Washington 16-3 in Tucson on Nov. 7, 1992.
Hundreds of fans, mostly students, stormed the field at the finish.
The Bruins (8-1, 5-1 Pac-10) had come from behind in the fourth quarter to win in three of their previous four games, including erasing a 21-point deficit last week against Stanford. That wasn't going to happen this time, not with the Wildcats up 52-7 after three quarters.
UCLA's Maurice Drew gained 41 yards in 12 carries. Drew Olson completed 23-of-38 for 232 yards, including two touchdowns to Marcedes Lewis to tie the school record for scoring passes in a season with 25. The record-tying toss came against the Wildcats' second-string defense with 6:07 remaining.
Arizona (3-6, 2-4) scored touchdowns on its first four possessions, led 31-7 at the half, then scored two touchdowns in a 53-second span early in the second half to go up 45-7.
Marcus Hollingsworth broke up Olson's lateral pass and, after prompting from teammates, jumped on the ball in the end zone to give Arizona a 52-7 lead with 4:09 to play in the third.
Tuitama improved to 2-0 as a starter after leading the Wildcats to a win at Oregon State last week.
He completed his first seven passes Saturday, two of them for touchdowns. His 48-yarder over the middle to Thomas, after checking off the play at the line of scrimmage, put Arizona ahead 21-0 with 1:41 left in the first quarter.
The tone was set on the Wildcats' first play, when Tuitama threw to a wide-open Bell for a 51-yard gain that would have been more had Bell not slipped while trying to make a move at the UCLA 30. Thomas went 17 yards on an end around, diving into the end zone at the right sidelines, for the 'Cats first TD with 9:11 left in the first quarter.
The lead reached 28-0 on a 10-play, 90-yard Arizona drive. Bell and Harris did most of the damage, capped by Harris' 18-yard touchdown run.
The Bruins finally got moving with a no-huddle offense. Olson was stopped on a fourth-and-inches at the Arizona 6 to stop their first threat. But they came back on their next possession, Olson throwing 10 yards to Lewis to cut it to 28-7 2 1/2 minutes before halftime.
Nick Folk's 36-yard field goal with three seconds left in the half put Arizona up 31-7.
The Wildcats took the second-half kickoff and went 80 yards in eight plays, Bell going the final 8 for the score, flipping headfirst into the end zone, boosting the lead to 38-7. Fifty-three seconds later, Syndric Steptoe's 63-yard punt return for a touchdown gave Arizona a 45-7 lead.
Arizona had not returned a punt for a score in five years.