Roddick avoids ouster, advances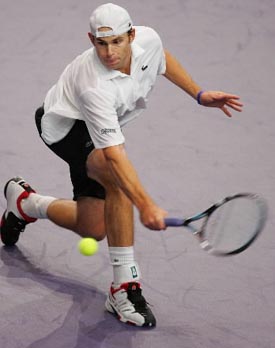 PARIS - Andy Roddick saved two match points before beating Spain's David Ferrer 2-6, 6-3, 7-6 (8) on Friday to reach the semis of the Paris Masters.
Top-seeded Roddick, who faced both match points in the third-set tiebreaker, will play sixth-seeded Ivan Ljubicic of Croatia today. Ljubicic reached with a 7-6 (6), 3-6, 6-1 win over Spaniard Tommy Robredo.
Eighth-seeded Radek Stepanek will face unseeded Tomas Berdych in the other semifinal. Stepanek advanced with a 7-5, 6-4 win over Nikolay Davydenko of Russia; Berdych beat seventh-seeded Gaston Gaudio 7-5, 6-0.
Roddick lost a service game for the first time in six weeks and three tournaments.
"If I get broken eight times and win the match, then I'd rather have that than hold serve 400 straight times," Roddick said. "I don't really care about it. By no means do I feel invincible."
In other tournaments
• Dementieva reaches semi — Elena Dementieva beat Kveta Peschke 4-6, 6-0, 6-3 to reach the semifinals of the Advanta Championships at Villanova, Pa., and claim the eighth and final berth in next week's WTA Tour Championships.
Dementieva joins Lindsay Davenport, Kim Clijsters, defending champion Maria Sharapova, Amélie Mauresmo, Mary Pierce, Patty Schnyder and Nadia Petrova at the elite eight-women event beginning Monday in Los Angeles.
• Dechy bounces back strong — Top-seeded Nathalie Dechy overcame a loss in the first set to beat Canadian wild card Stephanie Dubois 2-6, 6-0, 6-0 and advance to the semifinals against Amy Frazier at the Bell Challenge at Quebec City.