Vick has nightmare night vs. Hurricanes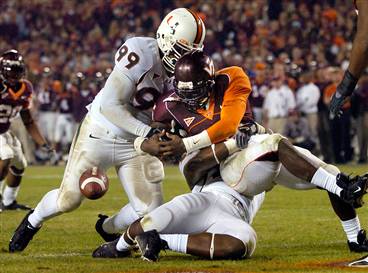 Vick was sacked four times, and finished 8-for-22 for just 90 yards.
"He didn't play his best," tight end Jeff King said. "Sometimes the line doesn't play their best. He didn't play his best tonight. It wasn't all his fault either."
It wasn't supposed to go like this for the Hokies (8-1, 5-1 Atlantic Coast Conference). Not in Lane Stadium. Not against their former Big East rivals. And surely not with a guy named Vick at quarterback.
In its history, Virginia Tech was 28-1 in games started by Marcus Vick or his brother, Michael, who led the Hokies to the national championship game in 1999.
The Hurricanes (7-1, 4-1) seemed unimpressed, even though Vick came into the game ranked second nationally in passing efficiency, having thrown 11 touchdown passes and only five interceptions, often countering youthful mistakes with dazzling plays.
Three of his interceptions came in a victory against Maryland, but he more than made up by throwing for 211 yards and running for a career-high 133 more and a TD.
There was no such magic for Michael Vick's little brother against a team that matches the Hokies' speed, hit Vick repeatedly and likely left him seeing stars.
"He's such a competitor. He wants everything to go just right," Beamer said. "I've got a lot of belief in Marcus. I think he'll come back and leads us to a lot of wins."
The Hokies trailed 10-0 at halftime, but had outscored opponents 157-29 in the second half this season, so they came out eager to take control of the game.
It never happened.
Miami took the kickoff and drove for a field goal. Vick then drove the Hokies to the Miami 42 with the help of his second and third completions of the game — in 12 attempts — but then coughed the ball up, with Orien Harris recovering for Miami.
Nine plays later, Kyle Wright's 9-yard pass to Darnell Jenkins made it 20-0.
After a botched kickoff return, Vick got the ball at his own 11. He was sacked for a 4-yard loss by Rocky McIntosh on first down, and fumbled again on third-and-17 from the 4 when hit by Luqman Nanton. Kareem Brown recovered for Miami in the end zone.
Vick also fumbled the ball away on the next series, then threw his second interception on the next, making the rest of the game a grueling exercise.
By the time Vick ran 2 yards for a touchdown with 8:06 remaining, all thoughts of a trip to the Rose Bowl were gone for the Hokies, and the only moderately positive news was that Vick's run extended their string of games without being shut out to 131.