Big finish gives Bar Bryant a three-shot lead in Tour Championship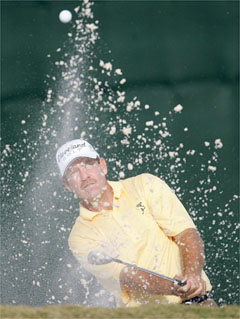 ATLANTA (AP) - Bart Bryant blasted out of the sand and into a three-shot lead Saturday in the Tour Championship, holing a bunker shot for birdie on the 18th hole for a 4-under 66 and a cushion he didn't expect.
Bryant was clinging to a one-shot lead over defending champion Retief Goosen over the back nine at East Lake, with Tiger Woods closing fast with three birdies over his final five holes.
Everything changed so suddenly.
Goosen three-putted for bogey from about 45 feet on the 17th to fall two shots behind, and was in the same bunker to the right of the 18th green when he watched Bryant make it for an unlikely birdie.
"So far, it's been a lot of fun," Bryant said. "There's been a couple of magic shots, for sure."
His birdie from the bunker put him at 14-under 196 to break by one shot the 54-hole record at the Tour Championship, previously held by Tom Lehman at Southern Hills in 1996.
Lehman went on to a six-shot victory that enabled him to win the PGA Tour money title.
Bryant still has plenty of work left.
Goosen blasted out to four feet and saved par for a 1-under 69, putting him at 11-under 199.
Woods worked out some kinks in his swing overnight and managed to make birdies on the par 5s for the first time this week - "Miracles do happen," he said - and shot 67 to finish four shots behind at 10-under 200.
"I guess I've got the No. 1 ranked player in the world and the No. 4 ranked player in the world right on my tail," Bryant said. "I know I'm going to have to go out and play good tomorrow. It's not going to be given to me."
Goosen is trying to become the first back-to-back winner of this all-star game for the top 30 players on the money list. Woods needs a victory to become the first PGA Tour player to break $11 million in one year.
It might be even more meaningful for the 41-year-old Bryant, who only last year captured his first PGA Tour victory in the Texas Open. He added the Memorial in June with a par on the 18th hole and now takes a three-shot lead into the final round against two of the toughest closers in golf.
"I hope to do really well," Bryant said.
After opening with a course-record 62, Bryant fell behind for the first time all week when Goosen birdied the first two holes, and Goosen opened up a two-shot lead with a six-foot birdie on the par-3 sixth.
Bryant didn't realize he had a five-shot lead Friday, and he didn't realize he fell behind by two shots Saturday. All he knew at the end of the day was that he was the man to beat.
"I'm a little surprised in my mind," he said. "I'm sure I'm a surprise in a lot of people's minds to be leading."
Woods was not among them.