Hussein makes Harrison pledge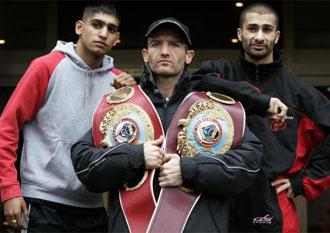 Nedal Hussein admits WBO featherweight champion Scott Harrison will stand tall with the greats if he can stop him.
The tough-talking Australian has questioned the ability and punching power of the Glaswegian ahead of their showdown at the Braehead Arena on Saturday night.
But while Hussein has reiterated his vow to stand toe-to-toe with Harrison despite the champion's advice not to, he admits being stopped would convince him of the Scot's class.
"I am not going to run from Scott Harrison," he added. "I have sparred with middleweights and not with featherweights so we will see how strong he is.
"I will take his blows. I walked through Manny Pacquiao so I am not going to run this time.
"He is not a big puncher. He is physically strong but he never knocks a fighter out with one punch.
"He wears people down after four, five, six or seven rounds.
"I am in good shape so if he is able to stop me he must be a great fighter."
Harrison's manager Frank Maloney responded: "He (Harrison) is a great fighter - you don't have to worry about that."
The WBO have told Frank Warren, Harrison's promoter, and Sycuan Ringside Promotions, who represent number one contender Joan Guzman, they must negotiate a mandatory world title showdown and have it take place within 120 days of November 5.
The Glaswegian's camp are convinced their man will come through the eighth defence of the title despite Hussein having a Scottish 'spy' among his entourage.
Maloney labelled his close friend Kevin Magee a traitor and vowed to string him up in the ring.
"Nedal has been making some brave noises," said Maloney. "Scott said he needs his head examining and he will definitely have to see a doctor after the fight.
"Scott is an angry young man and after Scott has finished with Nedal we want to hang his spy up in the ring."
Olympic silver medallist Amir Khan has his third professional fight against Steve Gethin but wants to eventually fight at light-welterweight or welterweight.
The Bolton 18-year-old has also set his sights on up-and-coming Scottish youngster Gary Young, who takes on Ivor Bonavic on the same night.
Khan said: "I would fight Gary and you never know.
"I want to fight Kevin Mitchell as well but that's up to our promoters. I am ready to beat him now."
Glaswegian John Simpson also meets Manchester's Andy Morris for the vacant British featherweight championship.