Jermaine O'Neal scores 27 points as Indianapolis beats the Heat 105-102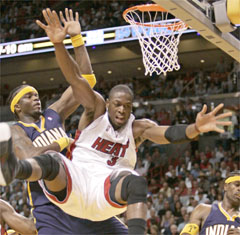 MIAMI (AP) - Jermaine O'Neal was celebrating. Shaquille O'Neal was on crutches.
A look at either O'Neal told the story Thursday night. Indiana's O'Neal scored 27 points, six in the final three minutes to help the Pacers recover from wasting a 14-point second-half lead and beat the Miami Heat 105-102. "There were a lot of times we could have broken down," said Ron Artest, who added 22 points for the Pacers who have won 13 of their last 14 regular-season meetings with the Heat. "But we didn't. We stayed together throughout this whole game."
Shaquille O'Neal sprained his right ankle midway through the fourth quarter; X-rays were negative, but Heat coach Stan Van Gundy expects his centre, who had 18 points and six rebounds, "to miss some time."
Dwyane Wade had 31 points and 10 assists for the Heat, but his three-pointer to tie rattled out as the buzzer sounded.
"It was like the Wheaties commercial with (Michael) Jordan," Wade said of his final shot. "It went around and played with me, and came out. I got a good look, got a good shot. It went in and came out."
The Heat led for only 19 seconds - Udonis Haslem scored the game's first basket - but still had chances to win their home opener.
Miami forced Indiana into 10 straight missed shots over a nine-minute stretch of the second half, allowing the Heat to claw back from a 73-59 deficit. And a 14-6 run in the fourth drew Miami into a 93-all tie.
"We knew they were going to make runs," Indiana coach Rick Carlisle said. "We knew Wade was going to play big down the stretch. When that happens, we had to keep our poise and composure. We did that and made the plays we had to make to win."
Gary Payton made a layup and was fouled by Jamaal Tinsley to get Miami within 93-92. Tinsley was whistled for a technical, and Wade made that free throw to tie it - but Payton missed the one that would have put Miami ahead.
That was a theme for the Heat: Miami was 27-for-42 from the foul line, plus committed 17 turnovers that Indiana turned into 20 points. The Heat couldn't even blame the woes on their centre who has notorious free throw problems: Shaq was 6-for-8 from the line.
"It'll get better as we go, but it's going to require a focus from a lot of people," Van Gundy said.
Stephen Jackson's two free throws with 1:37 left gave Indiana a 103-97 lead, but the Heat answered with five points in the next 29 seconds. Wade hit a three-pointer and Haslem put back Payton's miss with 1:08 left to draw Miami to 103-102.
Jermaine O'Neal made two free throws with 50 seconds left, and Miami didn't score again.
"We showed a lot of composure from start to finish," Jermaine O'Neal said.
Tinsley had 13 points, and Austin Croshere and Jackson each had 11 for Indiana. Haslem had 14 points, while Antoine Walker and Alonzo Mourning each scored 12 for Miami.