Rockets rout Hornets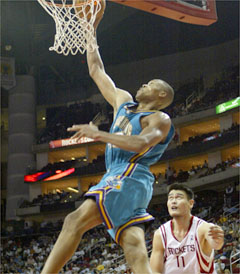 HOUSTON (AP) - The Houston Rockets failed their first test playing without Tracy McGrady.
With their superstar sidelined three weeks with back spasms, the Rockets struggled down the stretch on Saturday night, losing to the New Orleans Hornets 91-84.
The Rockets found out before the game that McGrady could be out for the rest of November after hurting his back during Friday's practice.
"We will have to learn to play without him," said Houston guard Rafer Alston, who scored 15 points. "But we've got guys who can get the job done. We've got a lot of firepower that can help us win games without Tracy."
The firepower fizzled in the final minutes against the Hornets, who ended the game with a 17-2 run. The Rockets missed eight of their last nine shots.
"We didn't execute the way we executed to get the lead," guard David Wesley said. "We just weren't very aggressive."
P.J. Brown had 18 points and 13 rebounds and Chris Paul sank two runners in the final minute to carry the Hornets to their first road victory of the season.
Even though Houston was missing its star player, the Hornets considered the victory significant.
"This was a really big win," Brown said. "This is one team I think can knock off San Antonio and we knocked them off."
Houston looked like it would survive its first game without McGrady, taking an 82-74 lead on Derek Anderson's three-pointer with 6:09 to go.
But Brown, guarded by Yao Ming, then scored seven points early in the deciding run and gave the Hornets the lead for good on a jumper over Yao with 1:59 to go. Brown had 11 points at halftime, then didn't score again until the decisive run.
"In the third quarter, I missed a couple of chip shots but I remained confident," he said. "And I warmed back up at the right time."
Yao, meanwhile, faded in the closing minutes. He had 20 points and 14 rebounds - his 86th career double-double - but missed two close-range turnaround jumpers while the Hornets were surging.
"We were getting the ball where we needed to get it," Wesley said. "We just weren't knocking them down."
Paul finished with 15 points and David West added 12 for New Orleans.
"This was a great opportunity for us to build some confidence," the Hornets' Desmond Mason said. "Obviously, Tracy wasn't out there and he's a big part of their team. But this is the NBA and they still had a lot of good players out there."
And Mason wasn't backing down from any of them, even the 7-foot-6 Yao.
In the final minute of the third quarter, Mason drove to the basket and was blocked by Yao. Mason dove to the floor for the loose ball and Yao went down on top of him, earning a jump ball.
When Mason got up, he flipped over Yao, and the two shouted at each other. The players on the floor crowded together and Juwan Howard shoved Rasual Butler.
Referee Tom Washington pulled Mason out of the scrum and tempers cooled as both coaches came onto the floor. Mason and Howard got technical fouls.
"A play like that shouldn't happen," Howard said. "Yao, all he was trying to do was defend the shot. Unfortunately, he wants to throw him off his back and be Mr. Tough Guy. We're not going to stand for that."
New Orleans coach Byron Scott thought the play fueled the Hornets' comeback.
"We've got a bunch of guys jumping around and they seemed to play better after that," Scott said.
Early on, the Rockets missed McGrady's defence as much as his scoring.
The Hornets sank nine of their first 13 shots and led 19-8 midway through the first quarter.
Houston coach Jeff Van Gundy tinkered with lineups to generate some offence and finally found one that worked. With Houston trailing 34-24, Yao and Anderson joined reserves Stromile Swift, Jon Barry and rookie Luther Head on the floor and the quintet out-scored the Hornets 20-11.
But the Rockets committed 17 turnovers in the game and wilted late - areas that plagued them last season and had nothing to do with McGrady's absence Saturday, according to Van Gundy.
"Right now, we're not a finishing team," he said. "That's a coaching problem more so than a player problem. Right now, that's on me that nothing has improved."
Notes: The Hornets beat the Rockets 89-88 in the pre-season, rallying from 22 points down. ... Former Rockets coach Rudy Tomjanovich watched Saturday's game from courtside and got a standing ovation when he was introduced. Tomjanovich left as coach of the Lakers last February, citing health reasons. He's been working as a scout for the Lakers since the start of this season. ... The Rockets had an eight-game regular-season winning streak snapped.