N.C. State drops No. 9 Florida State 20-15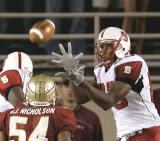 By BRENT KALLESTAD, Associated Press
Last updated: 9:25 p.m., Saturday, November 5, 2005
TALLAHASSEE, Fla. -- North Carolina State seems right at home in Seminole country. Freshman Andre Brown ran for 179 yards and a touchdown and the Wolfpack intercepted three passes in a 20-15 upset of No. 9 Florida State on Saturday -- the second time in five years N.C. State has won in Tallahassee.
N.C. State's Chuck Amato, who spent 18 seasons as an assistant to Florida State coach Bobby Bowden, is the only Atlantic Coast Conference coach to beat the Seminoles on their home field.
Amato joked he wouldn't need a plane ride to get back to Raleigh, N.C.
"I'm going to walk home," he said. "I will get there faster because I don't have to go through security."
Florida State, meanwhile, backed into the ACC's first title game in Jacksonville on Dec. 3 because Boston College lost at North Carolina.
"You know, we wanted to win our way into it and didn't do it," Bowden said.
The Seminoles (7-2, 5-2 ACC) looked anything like a title contender Saturday against the Wolfpack (4-4, 2-4), who have struggled all season.
Brown, who ran for 248 yards a week ago, raced 65 yards for a touchdown on the game's second play for a 7-0 lead.
"The offensive line opened a big hole you could drive a tow truck through," said the 230-pound Brown, who had only 42 yards rushing before last week's win over Southern Mississippi. "I just hit it and got on my horse."
The Wolfpack intercepted Drew Weatherford three times as N.C. State beat Florida State for the third time in five years.
"He's as good as advertised," Florida State defensive end Kamerion Wimbley said of Brown. "He's a big, strong physical back (and) broke some tackles."
Brown, Amato said, got his chance because other backs were having trouble hanging onto the football.
"He took advantage of it," Amato said.
Interceptions in the final two minutes by A.J. Davis and Garland Heath helped the Wolfpack survive a pair of blocked punts in the final 6:09.
"I was feeling that we were going to win this the hard way," Amato said.
After A.J. Davis' second interception of the game -- in the end zone with 1:50 left -- John Deraney took a safety and Florida State got a last chance in the final minute before Heath ended it with his interception.
Deraney also kicked field goals of 48 and 22 yards and N.C. State built a 20-10 lead late in the third quarter when Anthony Hill caught a 4-yard touchdown pass from Marcus Stone.
North Carolina State's defense did the rest.
Without injured tailback Leon Washington, Florida State's offense managed 43 yards rushing and was unable to get the ball to 6-foot-6 receiver Greg Carr, who came into the game leading the ACC in touchdown catches and yards receiving.
Weatherford was particularly ineffective in the second half, completing 5-of-17 for 55 yards. He was relieved for two series midway in the fourth quarter by an equally ineffective Xavier Lee.
"We're just not consistent, we're not a dominating team," Bowden said.
And with road games at Clemson and Florida preceding the ACC title game and a bowl date, the Seminoles will have to regroup to avoid a potentially disappointing finish.
Florida State, which had averaged 40 points a game over its last seven contests, scored its lone touchdown midway through the second quarter when Chris Davis went 33 yards with a slant pass from Weatherford for a 10-7 lead.
The Seminoles' only other points came on field goals of 25 and 48 yards by Gary Cismesia, and a safety.
Copyright 2010 Associated Press. All rights reserved. This material may not be published, broadcast, rewritten, or redistributed.