Who is going to bust?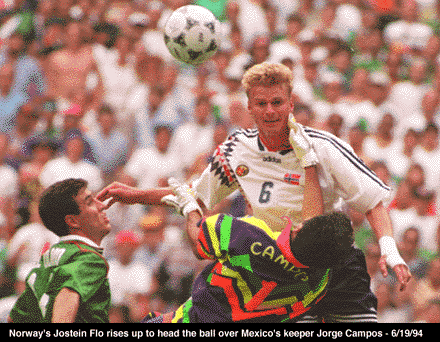 Busts
There were a lot of great stories during the 2004 NFL season. Drew Brees won comeback player of the year. Donovan McNabb finally got the Eagles past the NFC Championship. Mushin Muhammad came out of nowhere to be the best receiver in the NFL. However, when a player is coming off a career year that means there are extremely high expectations and most people do not live up to them. Below are four players whose 2004 performance has them valued much higher than they are worth.
QB Donovan McNabb - $18.8
Last year McNabb attained a career high in almost every passing category. His total of 3,875 passing yards was 510 higher than his previous best. His 31 touchdown passes exceeded his previous high by six. His completion percentage of 64.0% was more than five percentage points higher than he had ever thrown for. His yards per attempt jumped to 8.3 from a previous high of 6.7. To say Donovan McNabb had a career year would be the understatement of the decade.
The addition of Terrell Owens was the missing piece for Donovan McNabb and the Eagles. However, there are many reasons to believe that this year will not be the same as 2004. Terrell Owens is not happy. He is practicing and playing, but he still wants more money and doesn't want to be a great teammate. That is going to wear him down over time and he will not play as well. Imagine if Owens goes a week with 2 catches for 19 yards. It doesn't matter if the Eagles win the game 40-0, Owens will start pouting. Imagine the Eagles lose a few games in a row. Owens is going to say it is because he is not getting the ball enough. Once TO gets to the point where he is vocally expressing dissatisfaction with his teammates and coaches, Andy Reid will put him in his place.
Without Terrell Owens, McNabb is a good quarterback but not an elite one. There is too much controversy surrounding the Eagles for McNabb to perform as well as he did last year. Donovan McNabb will finish the season with about 3200 passing yards, 24 touchdowns and 15 interceptions, making him a decent starting quarterback, but not worth his high salary.
QB Drew Brees - $18.2
Drew Brees was the feel good story of the 2005 season, winning the Comeback Player of the Year Award. The San Diego Chargers drafted Eli Manning and subsequently traded him to New York for Philip Rivers, who was supposed to be the franchise quarterback for the Chargers. However, Rivers held out late into the preseason and Brees showed enough potential to retain the starting job at the beginning of the season. Rivers was there to take over once Brees faltered, but he never did. The Purdue alum led the Chargers to a 12-4 record, their best since 1979. He completed 65.7% of his passes last year and threw for 27 touchdowns and only seven interceptions.
There are three reasons to stay away from Drew Brees this year. First of all, Philip Rivers is still the future of the San Diego Chargers. Rivers is making too much money to sit on the bench, especially if Brees begins to struggle. Secondly, Marty Schottenheimer wants to run the ball on first, second and third down. Brees ranked 21st among quarterbacks in pass attempts and 35th in passes per game. On top of that, LaDainian Tomlinson was hobbled for a good part of last year. If he is healthy all year, the Chargers could run even more this year than they did last. Third, in the Chargers preseason game against San Diego Brees left early with a sprained ankle. If he is not healthy, he will not be effective and it will be the perfect chance for Rivers to come in and take the job.
Due to his performance last year, Drew Brees is the fifth most expensive quarterback in fantasy football. He will not live up to those expectations this year. Expect him to finish the season in the middle of the pack of starting quarterbacks, throwing for about 3100 yards, 22 touchdowns and 14 interceptions.
RB Tiki Barber - $14.7
In 2004, Tiki Barber was the Giants' offense. They really didn't have anything else going for them in New York. New York's leading receiver was Amani Toomer with 747 receiving yards and zero touchdowns. Eli Manning and Kurt Warner combined for an unspectacular season. Barber set career highs in carries (322), rushing yards (1518), and touchdowns (13). He will not even come close to those numbers in 2005.
One reason Barber's production will be reduced is Brandon Jacobs. The rookie out of Southern Illinois is 6'4" 256 pounds and runs the 40 yard dash in 4.5 seconds. He is a powerful inside runner and at his size will serve as the short yardage back this year, meaning Barber's touchdown numbers will drop significantly. Secondly, the Giants added a weapon to the passing attack in Plaxico Burress. Burress is another huge player at 6-5 226 pounds who will not only be a great target inside the Red Zone for Eli Manning, but will also increase the role of the passing attack in Tom Coughlin's offense. Lastly, the quarterback situation is very unsettled in New York. Eli Manning is not playing like a number one overall draft choice and has had some injury concerns.
2005 will be another long season for the Giants and Tiki Barber's numbers are going to suffer. Expect him to put up about 1300 total yards and seven touchdowns, making him great number three running back at an elite running back price.
WR Mushin Muhammad - $10.5
When Steve Smith was injured in the first game of 2004, it made Mushin Muhammad the primary receiving target for the Panthers. Muhammad responded with the best year of any wide receiver in the league. He caught 93 passes for 1405 yards and 16 touchdowns.
Muhammad enters this year as a Chicago Bear, which is the main reason why he should not be on any fantasy roster. Rex Grossman broke his ankle and will be out until at least November, making rookie Kyle Orton the starting quarterback. Orton has looked good in preseason but he will not be asked to win any ball games. He will play a Ben Roethlisberger type role where he is expected to use Thomas Jones and Cedric Benson in the running game and hope the defense can make turnovers and create scoring opportunities. When Orton is called to throw, opposing defenses are going to double cover Muhammad every play since Justin Gage is not a legitimate threat as a number two wide receiver.
Mushin Muhammad will definitely have some great games this year. However, he will be extremely inconsistent, especially at the beginning of the season while Orton is learning how to play in the NFL. Muhammad should catch about 70 passes for 1000 yards and 7 touchdowns. He will be a number two fantasy receiver at best and is not worth the $10.5 price tag.